Ayda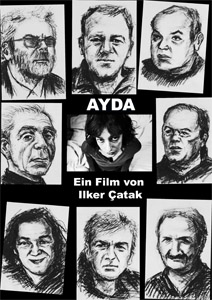 Synopsis
Ayda lives in a colourless world, and draws better than she communicates. Often times she says only one word or none at all. Every morning she buys half a sunflower seed bread and asks herself the question, "who buys the other half". Thats seems the only thing Ayda can motivate herself for. She waits everyday in the bakery waiting for THE customer. With quite an obsession she follows the customer and draws his/her face.

In moments of big emotions, Ayda flees herself to sunflowerfields.

One day her routine falls: a young man buys the bread and escapes Ayda. She cannot draw his face. Again she flees herself to the sunflowerfields, but the young man confronts her with his aloofness there as well. Ayda seems to despair of this male intrusion.


Inhaltsangabe
Ayda lebt in einer farblosen Welt, hat die Eigenschaft sehr gut zu zeichnen und nicht gut zu kommunizieren. Oft redet sie nur ein Wort oder gar nicht. Jeden Morgen kauft sie sich ein halbes Sonnenblumenkernbrot und geht der Frage nach, wer die andere Hälfte des Brotes hat. Sie will wissen, mit wem sie ihr Brot teilt. Das scheint das Einzige zu sein, wofür sich Ayda motivieren kann. Sie sitzt jeden Tag in der Bäckerei und wartet auf den Käufer. Obsessiv verfolgt sie die Person, die das Brot kauft und versucht durch eine schnelle Zeichnung das Gesicht der Person festzuhalten. In Momenten großer Emotionen, rettet sich Ayda in den scheinbar einzigen Ort der Geborgenheit: das Sonnenblumenfeld. Als ihre Routine eines Tages durcheinander gerät, weil ihr ein junger Mann entkommt und sie ihn nicht zeichnen kann, rettet sich Ayda wieder in das Sonnenblumenfeld. Doch der entkommene Mann konfrontiert sie mit seiner Unnahbarkeit auch dort und Ayda scheint an dieser männlichen Heimsuchung zu verzweifeln.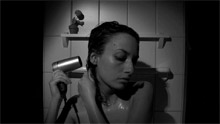 Directors' commentary
Ayda is about desire. Desire makes life worth living. A life without desires is no life. Even the desire for desire itself, is necessary. The character of Ayda is searching for desire, but once desire is found, an illusion falls. This idea has always fascinated me: you desire something and once you find what you were striving for, the magic disappears. Ayda is aware of that disappearance.

Bemerkung des Regisseurs
In Ayda geht es um Sehnsüchte. Sehnsüchte machen das Leben lebenswert. Ein Leben ohne Sehnsüchte ist kein Leben. Sogar die Sehnsucht nach der Sehnsucht, ist notwendig. Der Charakter Ayda ist auf der Suche nach der Sehnsucht, gleichzeitig aber fällt eine Illusion mit dem Finden des Gesuchten. Diese Idee hat mich immer fasziniert, etwa wenn man etwas begehrt, es sich herbeisehnt und dann., mit Eintreffen des Ersehnten, verschwindet der Zauber. Ayda ist sich dieses Verschwindens bewusst.

2008, HDV, 27min, Turkish and German with German and English subtitles

A film by Ilker Çatak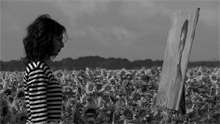 Cast & Crew

Ayda | Ayda Arbatli
Old Man | Ramazan Yusuf Çatak
Bäcker | Tamer Kazar
Young Boy| Onur Sundu

Director, Producer, DoP, Sounddesign | Ilker Çatak
Set Design | Ayda Arbatli