iki ARADA bir DENIZDE

(Zwischen den Ufern/Between Banks)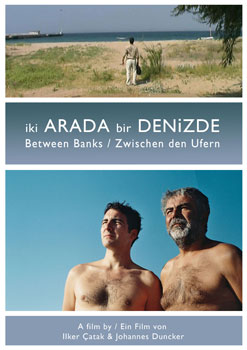 Synopsis
Young and successful Ali from Istanbul leaves the big city to go search for a lucrative piece of land on a sparsely populated island. Unfortunately he is immediately confronted with problems: "No Ferry Today" says a handwritten piece of paper at the gates of the port. In his hurry to somehow get to the island he meets an old fisherman called Memo. Ali offers Memo money to take him to the island, but Memo is satisfied with a cigarette.But since Memo is the captain, he decides the pace of the boat and thus paces the hectic Ali down as well as the story. The differences between the two men seem to be huge at first sight, but when you depend on one another, huge differences become tiny.



Directors' commentary
"Iki Arada bir Denizde" is about an encounter, the encounter of two men with different values, different views of life, from different social backrounds. Our intention is not to give an evaluation or to condemn values, the intention is to show that people can learn from each other, once they approach one another. When the man from the city first meets the fisherman, he has a clear vision of how his life should look like. He has dedicated himself to the pursuit of wealth. But the encounter with the fisherman forces him to rethink his life. Encounters like these often give you the opportunity to reaarange your position in life, they give you an alternative perspective on yourself. And this is possible with a film, that has a different cultural heritage. So we hope that we can grab the spectator and offer him an alternative perspective.





2008, DV, 20min

A film by Ilker Çatak & Johannes Duncker

Cast & Crew

Ali | Ilker Çatak
Memo | Ramazan Yusuf Çatak
Old man eating tomatoes | Cevat Çatak
Flirting woman | Asiye Çatak

Directors | Ilker Çatak & Johannes Duncker
Producers | Ilker Çatak | Johannes Duncker | Ramazan Yusuf Çatak
Director of Photography | Johannes Duncker
Original Music by | Siyasiyabend http://www.siyasiyabend.com/